Recognize inventors with "real time" recognition
Patent displays serve to celebrate the achievements of inventors from a management level that creates a climate and expectation for innovation. By tailoring the specific message, IP displays can serve to curate a culture of innovation that is unparalleled. The message is simple - "our inventors are unequaled". 
True engagement happens through public recognition, personalization, and empathic content. Our RFID inventor fast-finder recognition platform (shown) is a high-tech, digital alternative (or supplement) to traditional patent award programs. It is like an entire collection of patent wall plaques that fits into an inventor's pocket.
With the flick of an inventor's hand, every patent the inventor has received (or currently has pending) instantly appears in a "searchable" list. Interesting inventor facts can be included, if desired, such as bio-data, expertise, photographs, related publications, all of which be uploaded through a PowerPoint template or spreadsheet such as Excel.
RFID cards can be issued with a message from the company president in appreciation for the inventor's contribution.
The RFID cards can be issued in a "multi-level" format such a Gold, Silver and Bronze for inventors at different patent levels such as 50 patents, 25 patents and the very first, respectively. 

Traditional inventor banquets and wall plaque recognition programs have filled a need in the past. But our cutting-edge, digital Inventor recognition platforms fulfill the needs of the future by: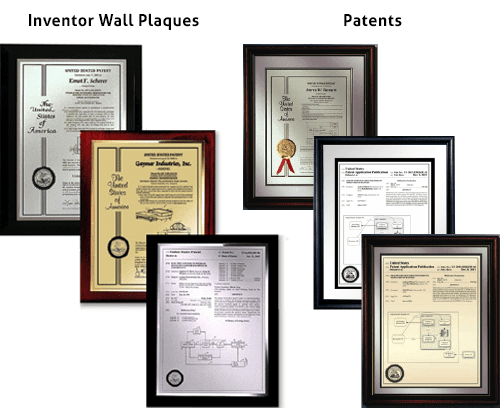 Inventor Recognition Awards
Companies that seize the opportunity to celebrate patents and innovation with our corporate patent walls or digital displays often want an option for recognizing inventors with traditional wall plaques or patent frames. In a sales agreement with U.S. Patent Services, a preeminent, high-end manufacturer of patent awards, we offer a range of competitively priced, traditional patent awards for recognizing each inventor. 
Please contact us at 262-622-1974 for more information.