Digital Displays (non-interactive)
Digital displays (non-interactive) are designed to get the viewer's attention in a matter of seconds and hold it for perhaps only a few minutes. These are ideal for corporate innovation centers or company lobbies where a guest or customer may be briefly passing through. They are designed to make an instant, visual impression about patents without holding up viewers.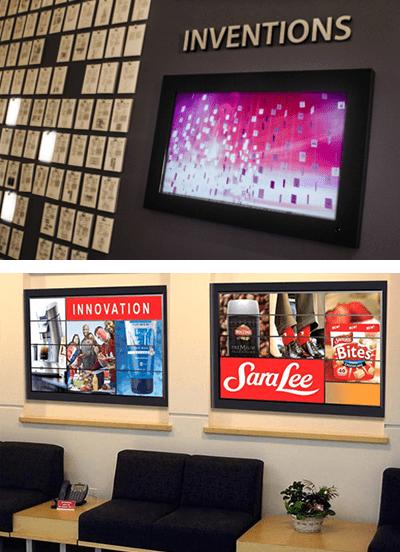 By linking multiple screen arrays that are coordinated to pass IP content between them, a visual synergy is created that enthralls the viewer. Imagine, for example, a scrolling cue of patent numbers, front page images and products coordinated in a digital ballet of images. Independent screens could be linked to specific product sectors, markets, innovations or R&D initiatives.
Digital displays perfectly complement and enhance traditional patent wall designs that incorporate architectural signage and patent wall plaques or frames.
Digital displays allow for flowing, multimedia IP content that can include graphics, text, videos and sound to communicate interesting information about patents and inventors.
Digital displays can be updated and managed through a variety of data transfer means, from a simple USB memory stick to networked display that can be managed and updated remotely. They are also compatible with digital sign management software.
Digital displays are effective and less expensive than interactive displays since there is no interactivity or navigation required.
Design is at the heart of the viewer's experience.  Almost instantaneously, design shapes the viewer's impression.  It can be subtle or bold, cutting edge or traditional.  Design should capture the value a company places on invention and innovation, while celebrating the human element that drives both.  Our team of designers has over 50 years of experience in designing media and corporate branding.
In a "purely" digital display (non-interactive) the multimedia content is basically an "attractor" mode that runs, for example, animations, slide shows, PowerPoints or videos to recognize inventors and promote innovation. By mixing up the content during the day, viewers will want to return and be positively reinforced by the unique and intriguing subject of invention and intellectual property.

We offer IP related content creation, including publishable templates that allow administrators to refresh and administrate the following content:
The IP content can be automatically extracted by our propriety software from the weekly data feeds published by the USPTO. So, any information that appears on a patent (or patent pending) can be displayed as content on the IP display.

This is more significant with interactive IP displays where a whole world of IP content can be explored and navigated.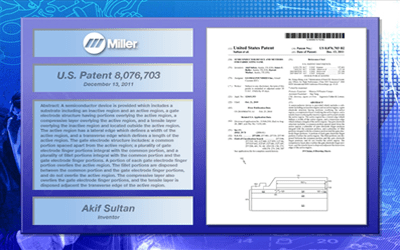 Integration relates to getting information and data into the display when data comes from various systems and in many file formats. We offer a variety of solutions that cover corporate requirements, from stand-alone, non-networked solutions to integration with sign management software.

Implementation is about the processor element of the display and how it will be networked. Implementation also includes server or cloud hosting considerations. Networking requires some kind of processing unit at the display location, such as a laptop or tablet PC.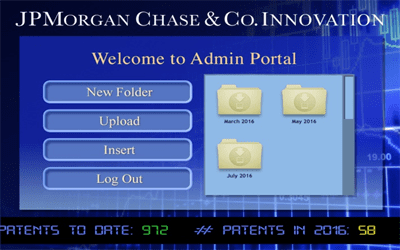 Display management involves managing the display's content and keeping it fresh with newly issued patents and IP content. The goal is to encourage people to revisit the display, especially inventors.

We can take the administrator efforts out of managing a digital display with our fully automated patent retrieval software that takes the hassle out of updating the display. Whatever appears on a patent can be extracted automatically and formatted for the display.